You spend a lot of time with sim racing and have a lot of fun doing it? At the latest when you already have your own Sim Rig at home and have gained experience in various racing simulations, sooner or later you need something new. Sim racing gloves could possibly be the next sensible investment in this great hobby.
Gloves have many advantages and can significantly improve the sim racing experience. Firstly, you can steer much more precisely as you get an even better and more secure feel for the sim racing steering wheel. This can result in you becoming more consistent and of course performing better in the various races online.
In addition, the lifespan of your steering wheel increases significantly, as the surfaces of your steering wheel never come into contact with sweat or anything else.
This is especially the case with higher quality sim racing steering wheels such as Fanatec or even a Cube Controls Wheel, where the holding surfaces are covered with alcantara. In today's article I would like to introduce you to the best sim racing gloves so that you can soon take your sim racing experience to a new level! Let's go!
What do good sim racing gloves need to be capable of?
First of all, there are many factors under which you can evaluate sim racing gloves.
These include:
Processing plays a decisive role in all sim racing products, regardless of whether they are steering wheels, pedals or gloves. Nowadays, there is even a huge range of different sim racing gloves, each with different prices. The quality and therefore also the manufacturing usually always have the greatest impact on the price of a product. Gloves are often made of very high-quality materials such as Alcantara or other forms of leather to offer sim racers an even better racing experience.
The wearing comfort of Sim Racing gloves, similar to the price, varies strongly from model to model. It is important to be aware of your own hand size in order to choose the right glove. It is particularly important that the glove fits snugly and does not pinch anywhere. This way you can be sure that the wearing comfort is adequate. However, this category varies widely from person to person, so everyone should decide for themselves what they ultimately find comfortable.
Grip on the steering wheel:
When you decide on sim racing gloves, you want one thing above all: to improve your sim racing experience and your own performance. It is always important to have enough grip on the steering wheel, because this is the only way to be able to drive precisely and, in particular, consistently. 
When looking for the right sim racing gloves, the many different offers and suppliers can overwhelm you. To find the optimal model, it is advisable to look at the price-performance ratio of the gloves. This way you can compare them all and finally decide much easier which one to buy.
What are the 7 best Sim Racing Gloves?
In this list, we have taken into account all the factors already mentioned above, so that we can make it much easier for you to choose the appropriate sim racing gloves.
My first recommendation is the first real racing glove option on our list. Sparco is known for building motorsport gear and this particular series is aimed at gamers. Designed with sim racers in mind, the Hypergrip series uses materials that offer maximum ventilation and grip.
This makes the Hypergrip series an excellent option for extended use. These sim racing gloves always fit extremely comfortably and also ride with a premium grip on the steering wheel. The fingertips on the gloves are touch sensitive and can even be removed if you don't want your fingers inside the glove all the time as you want to press any buttons for example.
These sim racing gloves prove to be an ideal all-rounder because of their high wearing comfort and good flexibility. The prices of the Hypertrip series start at around 35$.
Next comes the Tech 1K from Alpinestars. Every motorsport fan and racer should be familiar with this company, which is one of the largest manufacturers of motorsport clothing. Alpinestars offers accessories for all kinds of racing series and even officially licensed products for motorbike racing. The Tech 1-K is generally a karting glove, but you can also use it for sim racing without any problems. At the time, I also used this glove for racing karts and was immediately convinced. The tight fit ensures that these gloves fit extremely well.
They are also made of very high-quality material such as Alcantara, etc. I like the design as these gloves are offered in different colors. For me, it was clear from the beginning that I would not be buying new Sim Racing gloves just to get into the Sim Racing scene, so this decision was basically made on its own.
It is true that these gloves are a bit longer and more robustly constructed, but this is also due to the fact that this product was not explicitly designed for sim racing. Nevertheless, it can be a sensible choice to fall back on this model, especially if you regularly do laps on the real race track in addition to the racing simulator. Prices vary greatly from supplier to supplier, but are roughly around the 40$ mark.
The next model I chose would be the SIM 20 from the company Freem Sim Racing. These are aimed more at the professional sector. Firstly, with these gloves you have the great advantage of low weight. The gloves weigh a total of just over 30 grams and are thus much lighter than the others.
In addition, the fingertips are made of very special material so that you can also use a smartphone without any problems. Believe me, this is an enormous advantage over the other gloves. For example, if you want to quickly type something on your smartphone before you start your race on iracing, you will thank this feature several times for not having to take off your Sim 20 directly. These sim racing gloves are made of very thin but very tear-resistant material, so that you get an even better driving feeling.
For this reason, Freem Sim Racing is also the official sponsor of the Alpine F1 Sports Team. This underlines the professionalism of this brand and may be the main reason for some people to buy it. Overall, it can be said that this is a super good and comfortable option to consider. At 45 euros, they are one of the most expensive in the entire range, but I think the price is fair. 
I would love to give a prize for the most beautiful gloves and I think it should go to the Sim Hound Gloves. The state-of-the-art glove design was developed with optimal comfort and performance in mind.
If you are looking for a long lasting grippy riding experience, this is the glove for you. These Sim Hound Gloves have been specially made from breathable and especially elastic fabric parts and just feel damn high quality. What's also cool is that you can adjust and adapt the gloves individually. And this model also has a so-called touchscreen attachment, which is supposed to make it possible to operate a mobile phone.
The low price of only around 30$ for this model is also surprising. Sim Hound is a great company that specializes in high-quality sim racing clothing such as shoes and other accessories.
If you are looking for many different and unique glove designs, you will find them 100% at IMB Race Wear. This brand is a company that has made highly professional sim racing articles its niche.
At IMB, you can get full length gloves as well as gloves that go all the way to the wrist, depending on your preference.
As far as the quality of the racing gloves is concerned, they are in the top league. IMB also makes sleeves, socks and shoes for racing. These products can also be purchased if you want to bring the sim racing experience even closer to reality.
The Sim Wear gloves start (about 52 USD) and go up to (about 68 USD) in price. The best feature of all is that you can even create your own design for the most expensive model and thus personalize the gloves.
This company has not been active for too long. But that doesn't mean their gloves aren't worth looking at. F33L even has a partnership with the biggest Sim racing YouTuber "Jimmy Broadbent" and therefore also offers a very special design for sale.
If you're looking for premium gloves with a casual look, you're guaranteed to find it here. Great workmanship and also a mega price-performance ratio make the Sim Racing gloves from F33L something truly remarkable.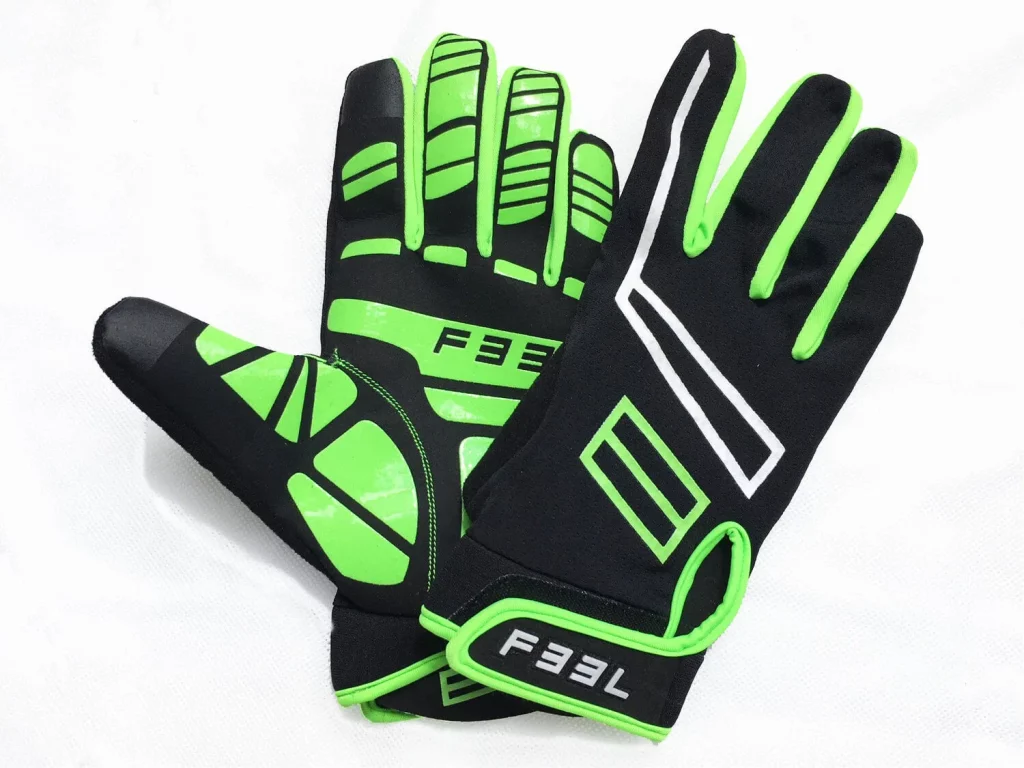 As in every area of sim racing, there are also products in the glove sector that compete in a completely different league. I think Moradness camo gloves can be included without hesitation.
By far the highest price in today's list, these coloured items from the Moradness company are the ones to beat. To be honest, there is not much to add here: Great look, great quality and equally outstanding wearing comfort. If it weren't for the price, which at $95 seems a bit astronomical compared to the others.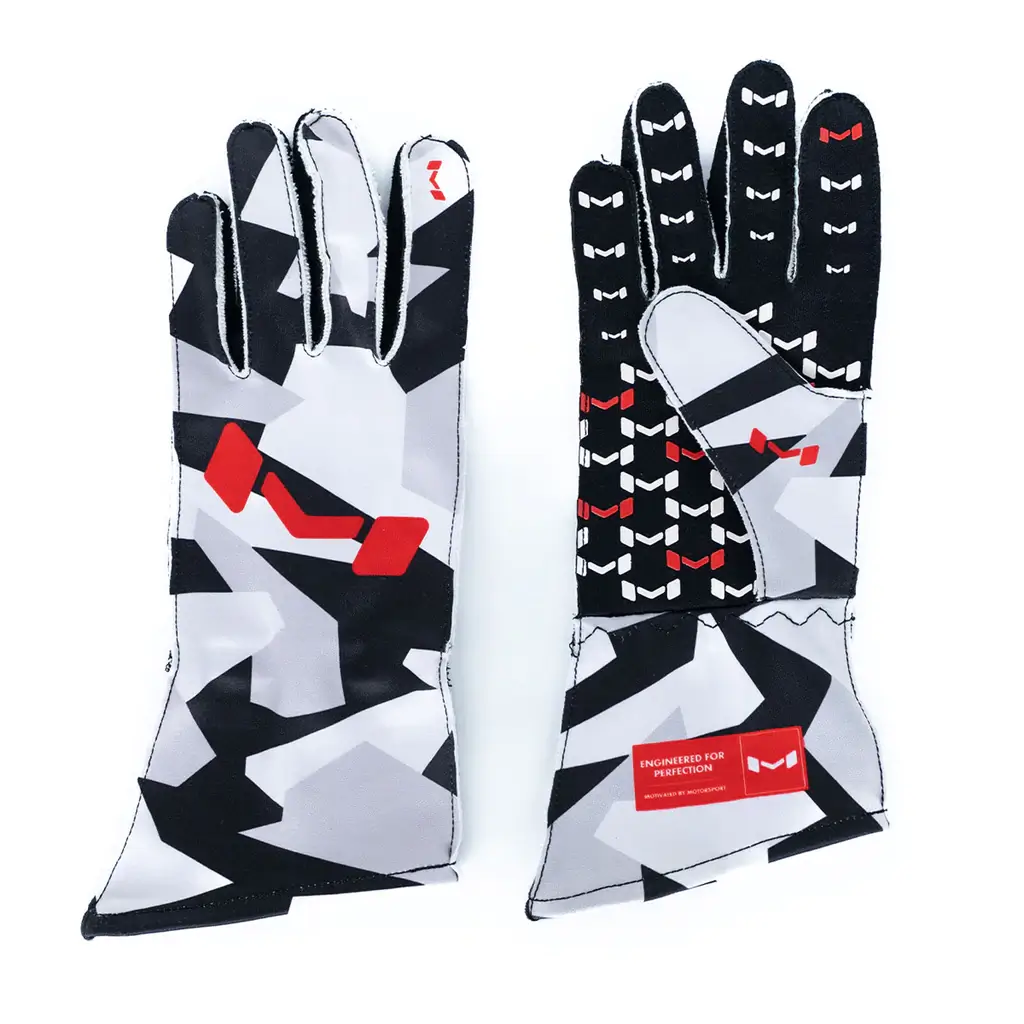 Sim Racing Gloves - Should you buy them?
Sim Racing Gloves are no doubt a great extra to add value to your rig at home. It may not be a sensible choice for beginners who are just trying to get a foothold in sim racing but in the end it really depends on your goal and preferences. What do you think about Sim Racing Gloves? Feel free to write it in the comments below!
If you'd like to see more content about sim racing, check out my own YouTube channel. There you will find numerous tutorials on various racing simulations, meaning there is definitely something for everyone.
Cheers,